Cap Protecting Washing Frame
Cap Protecting Washing Frame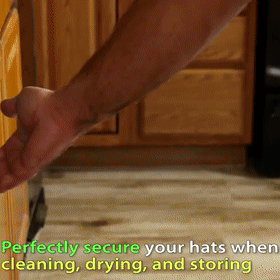 The baseball cap washer shelf is a new way to clean your hats so you can spend more time with family or friends.Suitable for both adult and children's hatsas the safest and easiest way to clean ball caps and keep them in shape.
Perfectly fix your hat. Machine cleaned, dried, shaped, and stored, it fits all your flat and curved ball caps, safely and effectively maintaining the inner shape of the hat.
Can be used as a hat storage rack, hat protection rack, and hat cleaning rack. Helps you spend less time and effort keeping your hats neat and looking new.
This new 4-sided clip design is easier to lock and unlock, keeping the hat firmly in place during washing. And the spacing helps maintain the natural curve of the brim, extending the life of the baseball cap.
Just open the hat holder put the hat in, and snap it on. Put it on the top rack of the dishwasher or in the washing machine on the normal cycle (clean only) and add detergent or soap to wash.
Made of high-quality environmentally friendly plastic material, good flexibility, strong and durable, not easy to break or deform. Can be reused for many years.