Cat Astronaut Capsule Backpack
Cat Astronaut Capsule Backpack
🎯Keep Your Furry Friend With You On All Your Adventures
It is never pleasant to leave your pet behind during a trip or a hike, but with this Pet Carrier Backpack, you can bring your pet along and watch the world with them. Let them go to see the world with you and let them double your happiness.
The Cat Capsule Backpack design is cute and fashionable. It is lightweight and is convenient to carry your little pets anywhere. It has a built-in lock that prevents the cat and dog from escaping or getting lost when the Travel Bag is open. The ventilation holes on the side of the bag promote air circulation and make your pet feel comfortable.
"We love this backpack!! Each of our cats have their own backpack and they know they mean adventure!! Spacious, easy to use and durable. We love the great service from Wuff Squad."
🎡Top Opening- The top has a zipper opening along with a mesh opening that you can keep rolling with our snap feature so your cat can hang out from the opening top. Security leash hook attachment provides extra security when the top zipper is open.
🥎Good Ventilation- Our Pet Backpack features ventilation nets and nine large holes which provide fresh air to your pet. The expandable anti-scratch net and air filter on the back provide maximum breathability and allow your pet to enjoy a good time with you.
🍟Durable And Safe- With an anti-scratch fabric net, our Cat Backpack is durable and easy to clean. The back anchor and anti-skid pad prevent your pets from bumping and jumping out of the bag. And allows your pet a comfortable journey.
🤶Unique Transparent Design- Our Cat Carrier Backpack transparent bubble shell design allows your pet to see the outside scene in all directions and feel safe with comfort. The transparent dome is sturdy and scratch-resistant.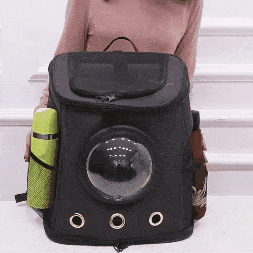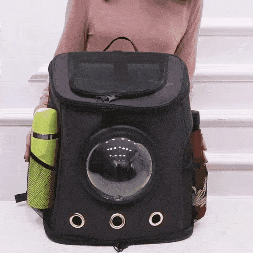 🍟Side Pockets
Our Cat Bubble Backpack also has side spacious mesh pockets for small items like bottles, pet toys, treats, and more.
🐱‍💻Anti-Slip Bottom
Anti-Slip Bottom increases stability and adds support to your backpack. And makes your pet feel more secure.
🙌Perfect For Travelling
Cat Backpack With Window is suitable for your car backseat while you are driving. Its expandable back gives enough space to your pet while travelling.
⚽Security Hook
The Security leash hook attachment present at the back provides extra security when the top zipper is open and prevents the cat and dog from escaping.