Cordless Hair Curler - USB Rechargeable - LCD Display
Cordless Hair Curler - USB Rechargeable - LCD Display
Say Goodbye to The Messy and Tangled Cable Design
Why choose our curling irons?
USB RECHARGEABLE & CORDLESS - The portable design is ideal for anyone who enjoys traveling. The 5200mAh rechargeable battery gives you the option to create your unique hairstyle at any time.

FAST HEATING CERAMIC BARREL - 60-minute cordless and automated curling hair without skills, instantly creating gorgeous and natural wavy hair. Beautiful curls or waves can be achieved at any time and anywhere. Anyone can become a hair curling pro!
6 TEMPERATURE OPTIONS & 11 TIMERS - Our Hair Curler allows you to flexibly adjust the temperature (300°F (150°C), 320°F (160°C), 340°F (170°C), 355°F (180°C), 375°F (190°C), 390°F (200°C)), curling time (8S, 9S, 10S, 11S, 12S, 13S, 14S, 15S, 16S, 17S, 18S), and curling direction (left or right). All of this is displayed on a little LCD screen.
HOW TO USE IT?
ONE-CLICK AUTOMATIC CURLING - No skill is required; simply place a small bit of hair into the curling tube, push the button, and wait for a few moments to achieve lovely curls.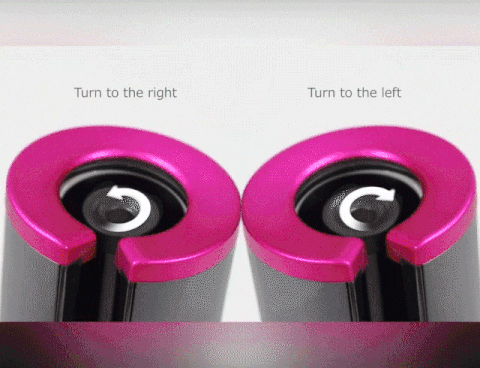 PREVENTS SCALDING - There's no need to be concerned about burning your hands or face with hot curling irons. The heating rod is situated within, providing you with double protection.
Specification:

Battery voltage: 3.7V