🐱 Do muddy and wet paws drive you insane?
Is your Dog distracting you while driving, making it dangerous for both of you?
Are you frustrated by your Dog ruining your back seat every time you take them along with you?
Are you fed up having to vacuum up their hair out of your car seats after every trip and you car smelling of wet Dog?
Hammock-style Dog seat covers are a great option for pet parents looking for a seat cover that protects the back seats, according to experts. "They can help prevent a dog from falling into the foot wells and offer a soft barrier that may keep some dogs contained in the back seat".

😺 It's a must-have essential every pet owner should have!!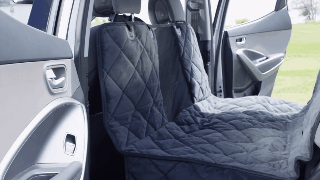 🌱 ABOUT OUR SEAT COVERS AND THE BENEFITS

We have designed the seat cover to be able to have a universal fit in all car interiors and we do recommend you visit our FAQ's page for a list of good fits from customers who have already purchased and have had no problems!

Our Dog Back Seat Cover is 137cm in length and 147cm wide, allowing enough room for your Dog to be comfy and secure with plenty of space in the back seat. You also won't have to worry about your Dog distracting you either, with our Premium Adjustable Buckle leash your Dog will be buckled in, ensuring a safe ride for you and your Dog.



We have also designed our product to have a built-in nonslip backing and seat anchors to prevent the car seat cover from sliding around.

Our design team have incorporated velcro openings in the bottom of the Back Seat Covers for Buckle Leashes to be clicked in. Head rest straps are also included so that can ensure you and your Dog are safe on the road. We have taken into consideration your Dog precious toys that they love to bring along with a built in pocket for easy storage.

After your journey, you can take the cover off in seconds. Give it a quick shake to remove any pet hair or dirt and fold it away for your next use. If the Seat Cover is extra dirty we recommend that you wipe it with a damp cloth first to get the majority of dirt off, then let it hang out to dry, ensuring that you get the most use of your product!

When you're not using it, it can be folded up and put back into the Carry Bag or used as a cover for cages, sofas, or floors.

No special tools or technical skills are required to install this seat cover, and in just a matter of minutes you'll have a safe protected cover for your car and Dog to use on the road with you!



😸 How To Set Up Your Cover

✔Simply unfold the Seat Cover.


✔Next hook the safety straps on the front and rear headrests of your car back seat.


✔Once attached insert the seat anchors in-between the seat back and seat surface to prevent your seat cover from sliding out of place.


✔Now you are set up you're all ready to go ensuring a safe travel experience.

😺 Why Shop With Us

✅
Perfect For All Dog Breeds
✅
Safe & Secure For Your Pets
😼 WHY YOU SHOULD STOP PUTTING YOUR PETS IN THE CAR UNRESTRAINED
Restraining your Dog will provide a number of safety benefits to both your Dog and the occupants of the vehicle. RSPCA statistics reveal that around a record 500 Dogs each year are injured or killed in Australia as a result of falling from a moving vehicle.
Properly restrained Dogs cannot move around inside the vehicle and will therefore reduce distraction to the driver

In a crash or under heavy braking, a properly restrained Dog is less likely to become airborne decreasing the risk of serious injury to the Dog, the driver and other passengers or other vehicles.
Restraining your Dog may also prevent it from jumping out of the car's window which could cause injury to the Dog or other road users.