THE PERFECT CAT TOY FOR PET LOVERS!

CAT TOY: HOW IT WORKS
Our Cat Toy will keep your kitty entertained for hours with its flopping and dancing moves. This amazing motion activated cat toy combines soft cotton, fresh catnip and realistic fish design that will take your cats playtime into the next level!
We wanted to create the perfect toy for cats to stimulate their natural hunting instincts and to release the extra energy with healthy exercise. It also helps to eliminate separation anxiety when you are not at home with hours of enjoyable playtime.
Don't miss out! Spoil your kitty now with our Interactive Cat Toy and join the thousands of happy pet owners around the world!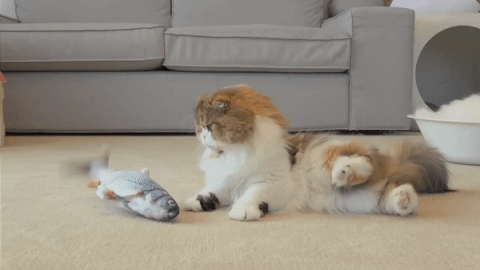 CAT TOY: MAIN FEATURES
- SELF MOVING: It flips on its own!
- RELEASES EXTRA ENERGY: Hours of fun playtime and healthy exercise
- USB RECHARGEABLE: No more wasting batteries
- MOTION ACTIVATED: Cats can make it flop
- AUTOMATIC ON/OFF MODE: No need to turn it off
- CATNIP POUCH INCLUDED: Easy to refill over and over
- REALISTIC APPEREANCE : Looks just like a real fish
- HIGH QUALITY MATERIALS: Made with soft cotton and washable bite-resistant fibers that will last for a long time
- 4 VARIANTS AVAILABLE: Choose your favorite from four unique designs
- PERFECT SIZE FOR CATS: 30 cm / 11 inches long
- A GREAT GIFT IDEA FOR PET OWNERS: Made for animal lovers and cat enthusiasts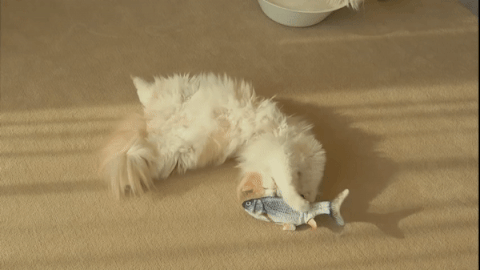 CAT TOY: FAQS
What is the Charge Time?
This Cat Toy charges for approximately 1 hour to reach the full charge and it lasts for up to 3 days without needing to be recharged every time.

How do you charge a Floppy Fish?
Just plug the USB cable that comes with the package to any standard USB type A port (like the USB port of your computer) and you are good to go. Once the has been fully charged, the led light indicator will turn from red to green light.

Where do I place the catnip?
The catnip comes in a little sealed bag, and it is placed in a little pocket inside the fish, so it wont affect the motor and its highly effective.

Is there noise from the motor of this toy or is it silent?
Our Cat Toy is the most quiet moving cat toy there is. Its new motor design is created to not cause any disturbing noises to you. Instead you will hear your cat happily purring in the background.

Is this meant to stop moving after a period of inactivity?
Yes, The Cat Toy is motion activated. When you switch it on, the motion detection system will recognize when its played with. This feature allows your cat to make it flop on their own! When its not played with, after a while it stops moving by itself, so you don't need to worry about turning it off. This feature also helps to save battery life.

What's in the box?
The package includes: The Original Cat Toy, USB Charger, User Manual and Fresh Catnip Pouch.