Outdoor Sleeping Mattress
Outdoor Sleeping Mattress
☑ Comfortable On All Terrain
☑ Prevents Back & Neck Pain
☑ Durable, Portable, & Lightweight (1 lb)
☑ Easy Inflatable Set-Up
You Deserve Comfort After A Long Adventure
Backaches and neck pain are very common among campers. After an adventure-filled day in nature, no one wants to sleep on rocky, rough terrain. A good night's rest is absolutely essential when you are outdoors all day.
With our Outdoor Sleeping Mattress, you will finally be able to get the sleep you deserve, ensuring you will be well-rested and energized for the next day.
The #1 Outdoor Sleeping Mattress
The Vevall™ Mattress is an essential piece of gear for the great outdoors. It is extremely durable and ultra-lightweight, and also provides maximum comfort and cold protection.
Hundreds of hours of research and testing led to the design of the Vevall™ Mattress, providing you with the ultimate way to sleep outdoors.
Bed-Like Comfort!
Maximum Comfort: Say goodbye to backache and neck pain! Designed with insulated flexible air cells, our mattress molds to the shape of your body, providing ultimate comfort.
Built-In Pillow: The top of the mattress is padded in the shape of a pillow to provide a proper cushion for your head and neck, which is critical to your comfort and a good night's sleep.
Cold Protection: Nothing is worse than shivering in your sleep. That is why we have an ergonomically designed, multi-layer system to ensure minimal heat escapes the mattress.

Compact, Lightweight & Durable
Extremely Durable: As hikers & campers ourselves, we were sick and tired of having mats pop on us! To give you peace of mind, we use durable multi-layered nylon for ultimate resistance.
Ultra Lightweight: We made it our goal to minimize the weight of our mattress as much as possible, weighing in at only 1.1 lbs / 500 grams.
Super Compact: Nothing is worse than a bulky sleeping mattress swinging around on the side as you walk. We designed our mattress to be as small as a water bottle when it's folded and stored in its carrying bag.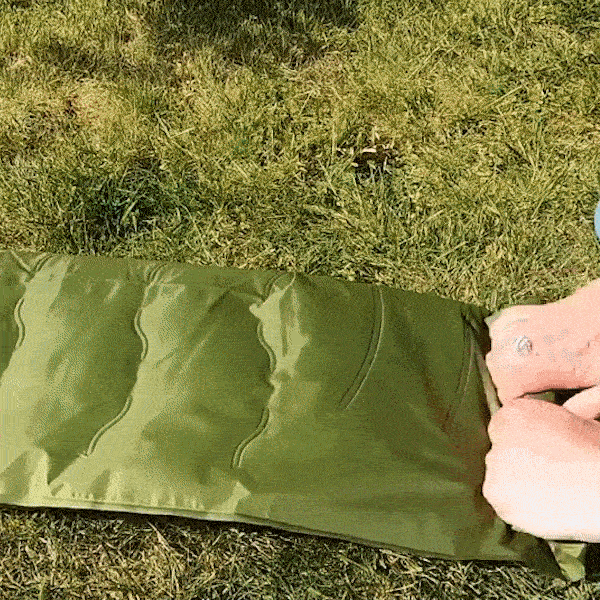 Easy Inflatable Set-Up
It only takes minutes for you to inflate your mattress. 8-15 deep breaths and you are good to go! No electronic inflator is required. Deflating the mattress only takes seconds, allowing you to pack quickly and efficiently.
Specifications
30-Day Money-Back Guarantee
If you aren't satisfied with your Outdoor Sleeping Mattress for any reason, you have up to 30 days after receiving your product to receive a refund or replacement.
Shipping
We offer FREE tracked shipping worldwide.
We process and ship out orders within 2-3 business days. Due to high demand and COVID-19 delays please expect shipping times of around 14 days.