Train your cat to use a human toilet in 8 weeks or less
No more mess, no more germs, no more smells, no more hassle
The training is easy for cat owners to understand and use
Comes with a standard white seat that fits most standard toilet seats
Developed with animal behaviorists, vets and cat breeders to make sure they work with the cat's natural instincts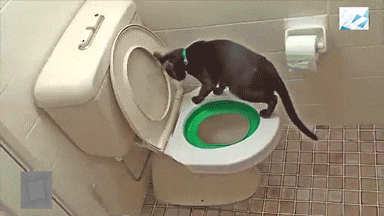 Products Specification:
Material: Environment-friendly PP material
Size: about 40x40x5cm/15.75x15.75x1.96 inch (L*W*H)
Suitable:Pet within 25 kg/ 55 Pounds
Suitable:U-shaped toilets
1) a white toilet mat plate.
2) 3 training set, red, orange, green, respectively.
Training is divided into three stages:
1, red solid disk set in white chassis, inside filled with cat litter, in the original basin used to replace the position of this litter cat litter,
let cats used to use the toilet.2 to 3 days later, near to the toilet, and then gradually moved to the toilet,
let cats used to jump on the toilet. This process needs about 7 to 10 days.
2, the red disc replacement for the middle disk with a hole in orange, reduce the amount of cat litter,
and cats used to the water inside the toilet, this process requires constant about 1 to 2 weeks.
3, the orange disc replacement for the green disc, the disc hole will be orange disc larger than before.
To reduce the dosage of cat litter, until there is no cat sand can in on discharge after using the toilet,
removing the toilet, retain only white chassis, this process takes about 4 weeks.