Rechargeable Juice Blender With Power Bank
Rechargeable Juice Blender With Power Bank
Portable Rechargeable Juice Blender With Built-In Powerbank
Do you crave your favorite smoothies, but just don't have the time to make them?
Well now you can! With the Portable USB Juicer Blender!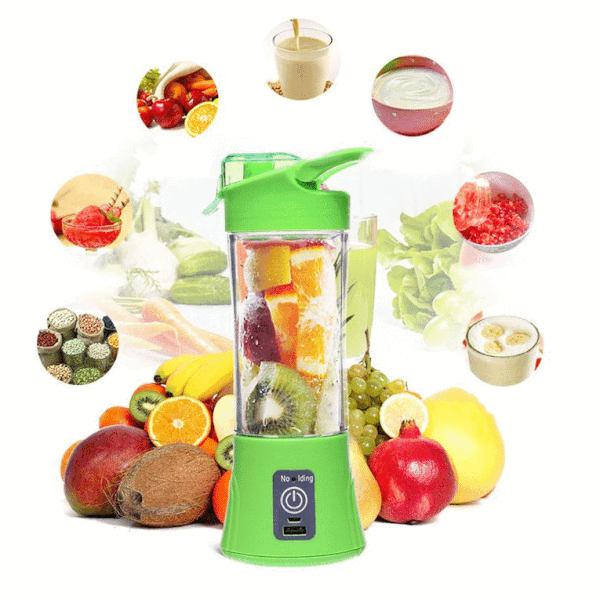 Features:
Juicer/blender on the move: Juicer blender with 2000mAh rechargeable battery inside; ideal for home, sport field, travel, office and days out.
Small in size and portable, can used as common cup and juice blender.
Nutritious & Hygienic: Quickly blends a variety of vegetables and fruit to make juice/milkshake/smoothie or any shake/drink without spillage.
Easy To Wash: Easy to dismantle and simply rinse under warm tap water.
Stylish & Sturdy: Attractive sturdy designed gadget; Solid body with steel blending blade.
High power strong motor, can easily crush hard materials.
Using eco-friendly and baby food grade material. Perfect for baby food, fresh juice, snakes.
Effortless single button operation to unleash 800 watts of blending power, with touch pulse for optimal texture.
Dual action stainless steel blade delivers perfectly smooth, creamy consistency.
Built-in power bank allow you to charge your cellphone on the move!
Specifications:
Capacity: 380ml
Motor: DC3.7V
Motor rotation: Load: <15000RPM
Working current: 10-12A
Cup cover material: food grade PP
Cup body material: imported PC
Base material: food grade ABS
Blade material: stainless steel 304
Battery capacity: 2000mAh
Please note: Images are for display purposes only. Please allow for minor differences.
Alt