Reflective Cat & Kitten Harness and Leash Set for Adventure Cats
Reflective Cat & Kitten Harness and Leash Set for Adventure Cats
Are you sick of leaving your cat at home alone as much as you do? Want to spend more quality time with your fur babies? Maybe you're hoping to train your kitty to love the outdoors? Or do you need a convenient harness for every-day errands with your cat or trips to the vet?
Our Cat Harness & Leash Set can help you spend more quality time with your cat beyond the great indoors - giving your cat the enrichment and stimulation they need in a safe way so they can live a long and happy life.

Here at Travel Cat, we believe every kitty deserves a life full of fun & adventure. That's why we created our line of Travel Cat gear to include felines of all sizes - from the little floofs, to those who are "big boned". Adventure should be a pawsibility for all cat parents and their kitties, to embrace the wild side & get outdoors together.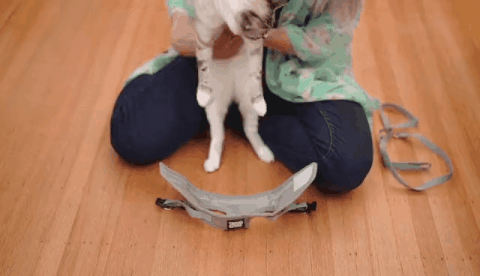 What you've stumbled upon - a site and community filled with people who do more with their cats - is a small but mighty and growing community. The Travel Cat community is filled with cat parents who realize exploring with your cat - getting in the sights and smells outside of the house - is rewarding, healthy, and benefiticial for both human and feline.

Having high-quality gear is the most important factor when looking to spend bonding time outside of the house with your cat. We design our products with your cat's comfort and safety as top priority, along with your convenience and comfort as the cat parent, of course!
This easy-on, comfortale, and safe harness is exactly what you need for your outside adventures - whether that's walks around the block, road trips, hiking at National Parks, flying across the country, or anything in between.



Product Highlights:
Confidently take your cat out walking, training, hiking and exploring the great outdoors with our adjustable, breathable harness and strong, harness and leash set. This harness has two ways to adjust, from its velcro fastener and plastic adjustable clip, you can make it comfy and have room to grow.
The reflective strip enables you and others to safely spot your fur baby from afar, even when it starts to get dark. The strong nylon leash is the purrfect length (4 ft.) to let your cat explore things while you're still in full control.
The sturdy snap clip is constructed with premium quality metal alloy and features a 360-degree rotation that adjusts to your cat's every move. Pair this harness with any cat backpack - all of ours have a clip you can use to attach the harness to the backpack.
Dimensions and details